Steer Protocol x Sushi

We at Steer Protocol are excited to announce our collaboration with Sushi, aiming to bring high capital efficiency to concentrated liquidity. This partnership is a result of Sushi's investment in Steer Protocol back in 2021, which laid the foundation for a revolutionary approach to liquidity management and web3 automation.
Through Sushi's newly released Concentrated Liquidity Pools, our partnership offers users an intuitive, automated Liquidity Provider (LP) experience. With Steer Protocol's top-tier liquidity engine, we break down the barriers between liquidity and intelligent algorithms to automate LP positions seamlessly. Steer Protocol pioneered the development of multi-position strategies and we are excited to enable this groundbreaking solution to Sushi's users.
Our collaboration also provides a first-of-its-kind marketplace for LP strategies! Everyone now can create and launch active LP strategies as well as remix current active strategies. This enhances the user experience within Sushi's concentrated liquidity pools for LPs and lowers the barrier of entry for protocols looking to bootstrap liquidity. Furthermore, users can create vaults in a permissionless manner, empowering them to participate in Sushi's ecosystem without any centralized restrictions aligning with the community-driven ethos of Sushi.
We currently support Sushi on the following chains:

Polygon
Arbitrum
Optimism
BNB Chain
… more to come!
Revolutionize Your Liquidity on Sushi
Steer Protocol aims to completely transform liquidity management. Experience unmatched capital efficiency, deep liquidity, and benefits for both traders and liquidity providers.
Steer Protocol stands out with its exceptional multi-position functionality, setting it apart from rival protocols that restrict users to just a single LP position. With Steer Protocol, users gain the power to handle an extensive array of positions simultaneously, enabling users to devise sophisticated strategies for maximizing returns. Embracing an open ecosystem, Steer Protocol encourages anyone to develop or publish strategies for any concentrated liquidity pool within the protocol, ensuring you can seize every DeFi opportunity.
The ability to manage multiple positions allows for flexible capital deployment across various price ranges. Put simply, you can strategically allocate your funds to different positions creating dynamic liquidity curves around a pool's current price, and effortlessly adapting to market fluctuations. Step into the realm of freedom and versatility with Steer Protocol, where innovative capital management techniques reshape the DeFi landscape.
The advantages of multi-position liquidity extend beyond individual users, positively impacting protocols that suffer from shallow liquidity. By attracting more liquidity providers, Steer Protocol fosters an environment of enhanced overall liquidity depth. This transformative liquidity management platform not only amplifies returns for liquidity providers but also elevates the trading experience for all parties involved.
With just a few clicks, protocols can set up automated pools and achieve remarkable liquidity in under 10 minutes. Embrace the future of liquidity management with Steer Protocol, where innovation and efficiency merge to redefine on-chain liquidity.
Steer Protocol Liquidity SDK: Unleashing Innovation on Sushi
We're excited to present the Steer Protocol SDK, a powerful toolkit that takes DeFi (Decentralized Finance) and Web3 projects like Sushi to the next level. This all-inclusive platform is designed to empower developers and community members to build exciting new products and automated solutions on top of Sushi!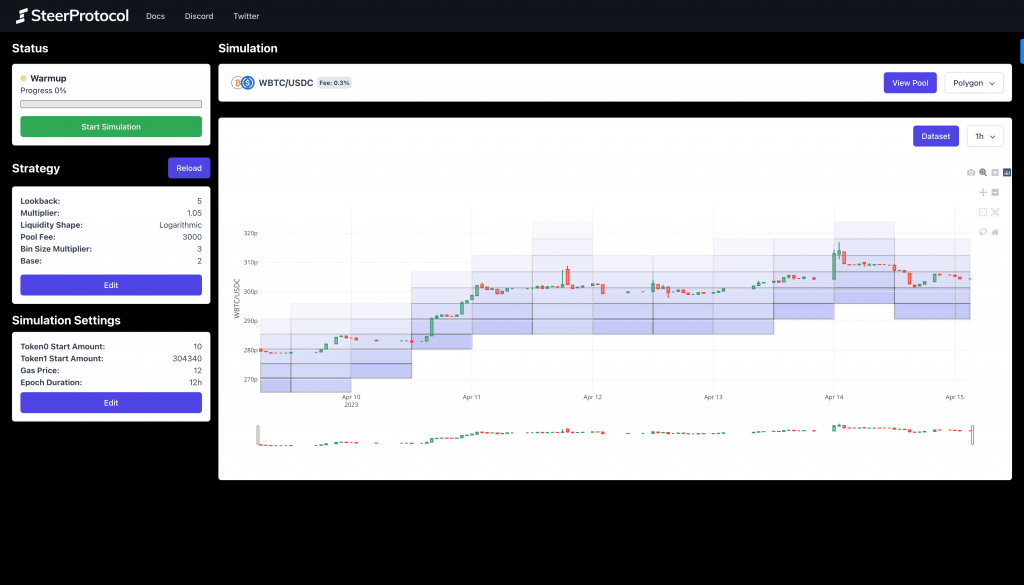 Test and Optimize Strategies with Ease
The Steer Protocol SDK provides a full-featured backtesting environment, which acts like a virtual testing ground for liquidity strategies. This testing environment is user-friendly, and accessible both on your computer and in web browsers. Developers can use historical data to simulate and fine-tune their strategies before putting them into action. By identifying potential risks and optimizing algorithms, developers can ensure their strategies perform at their best.
Simplified Development Tools and Resources
The Steer Protocol SDK offers a wide range of tools and resources to make the development process smooth. It includes easy-to-understand documentation, example strategies, helpful support libraries, and visualization tools. Additionally, there's a vibrant community of developers who can collaborate and share knowledge. It's never been easier for developers to create high-quality and efficient strategies on Sushi.
Below are the first pools available for Sushi users:
Chain
Pair
Fee Tier
Fee APR
Polygon
WBTC/USDC
0.3%
~66.55%
WMATIC/WETH
0.05%
~26.06%
USDC/STG
0.3%
~19.44%
SUSHI/WETH
0.3%
~18.70%
USDC/DAI
0.01%
~4.10%
Arbitrum
WETH/ARB
0.3%
~49.12%
WETH/USDC
0.05%
~28.24%
MAGIC/WETH
0.05%
~18.63%
RDPX/WETH
0.3%
~8.48%
Optimism
WETH/USDC
0.3%
~31.59%
* Fees may vary and are dependent on market conditions. You can learn more here: https://docs.steer.finance/concentrated-liquidity/apy-and-feeapr
Join the Steer Protocol Movement
Steer Protocol is leading the way in DeFi and Web3, providing unmatched opportunities for developers, liquidity providers, and traders to achieve more. Our advanced concentrated liquidity platform, pioneering off-chain compute, and data connectors are unlocking new possibilities for DeFi and Web3 innovation. With true multi-position capabilities, a data connector marketplace, and incentivized vaults, we are creating a more connected, democratized, and inclusive ecosystem for all. Join us today and experience the limitless potential of DeFi and Web3 with Steer.
Stay in the loop with the latest updates by following us on Twitter and joining our Discord community.
Concentrated Liquidity: https://steer.finance/liquidity/
Docs: https://docs.steer.finance/
Discord: https://discord.gg/sbbKp5SrQy